Unlock Your Full Interview Potential with RightJoin
Take mock interviews with our AI Hiring Managers!
RightJoin
Your personal coach for acing your next job interview.
Take unlimited mock interviews and get feedback on your performance.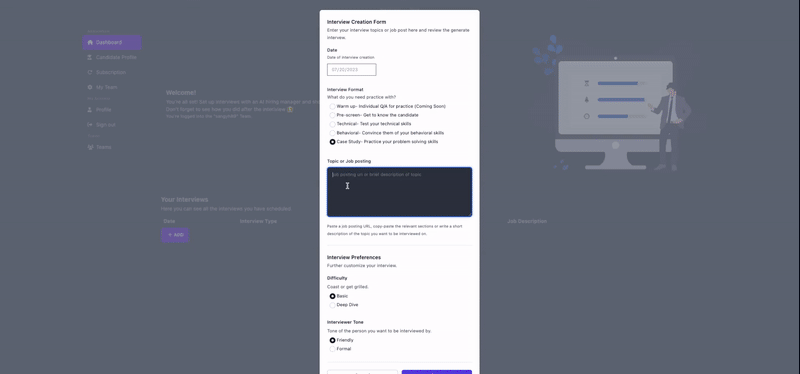 Set up
Create Mock-interviews
Select from a range of options including pre-screens, technical, behavioral and case study formats.
Tailored to your resume and job postings.
Practice
Get Interviewed
Talk like a real interview- ask clarifying questions and answer to the point.
You can customize the difficulty and tone of the AI.
Improve
Action on Feedback
Get performance scores and a feedback screport down to every response.
Invite a mentor to discuss your progress.
"I am currently in the interview process for a graduate machine learning/data scientist role and I'm at the final stage where I'll have to do multiple interviews. Essentially one of those interviews will be a client case and I'll have to walk them through what I would do and the case studies on your substack have been amazing for that, so thank you!"
With RightJoin, you'll never have to face them alone again. Our smart and friendly AI companion is here to guide you every step of the way, helping you prepare for your next interview with ease and confidence.
Frequently Asked Questions
Who is this for?
RightJoin is for any professionals in the job market wanting to practice before their real interviews.

How are the interviews personalized to my needs?
You can upload your resume, share the job posting for your upcoming interview and your interview is going to be based on this information.

Can I get practice on specific topics?
Yes. You can select interview formats like Pre-Screen, Technical, Behavioral and Case Study as well as any topic or job posting of your choice.
How it works
1. Create your candidate profile (upload resume)
2. Set up an interview on a job posting or a specific topic
3. Get interviewed by our AI interviewer
4. Receive a detailed performance assessment for improvements
5. Repeat until you are ready!